BIENVENUE SUR LE BLOG DE DINDON CANADIEN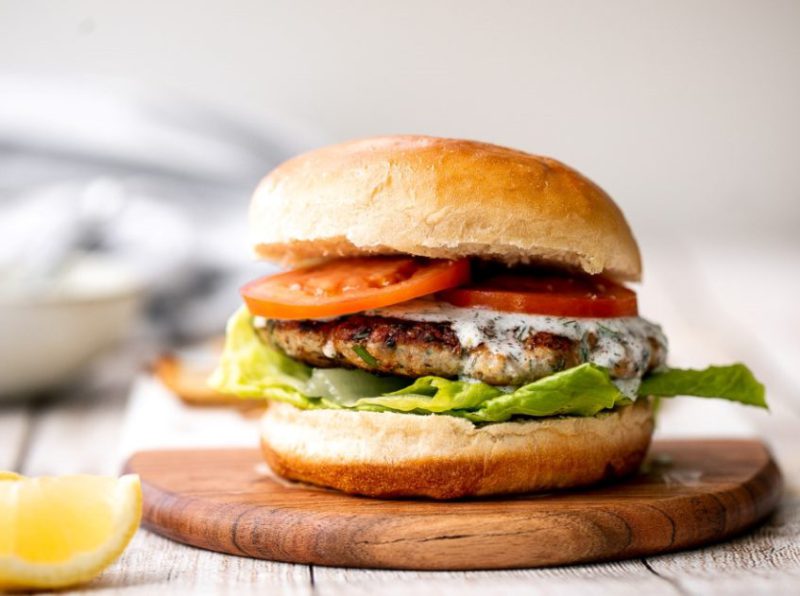 Delicious Make-Ahead Summer Meals with Turkey
Summer is the season for get-togethers with friends and family to enjoy casual outdoor meals. Whether taking a cooler to the cottage or a potluck picnic in the park, turkey is terrific for summertime make-ahead meals.
Here are three yummy, easy meal ideas to try this summer:
1. Tasty Turkey Burgers
Burgers are a fan favourite for the barbecue. They're also ideal for making ahead, freezing, and packing into the cooler so they're ready to pop onto the grill when you arrive at your dining destination.Turkey burgers are my go-to for all-round satisfaction: ground turkey is flavourful, extra-lean, nutrient-dense and an excellent source of hunger-crushing protein.Turkey burgers are also customizable and pair with any toppings and condiments you prefer. Prep all your veggie toppings just before packing to keep them fresh.
Try these two delish burger options:
Hot Grill Tip: Brush turkey burgers lightly with canola oil before putting them on the grill to prevent burgers from sticking (or brush your barbecue grill with canola oil before you turn on the heat).
2. Satisfying Salads
With so many fresh vegetables available, summer is a super time for salads. I can't wait to hit the farmers market to gather local veggies to pair with turkey for a light, cool meal on a hot day. I always grill turkey breast and keep it in the fridge, so I have it ready to top salads – it's packed with lean protein to boost salad satisfaction.
Here's two salads that are fabulous for simple suppers:
Use fresh local beans, asparagus, cherry tomatoes, baby lettuce and early new potatoes to make a beautiful platter of Grilled Turkey Niçoise Salad. Everything in this salad can be prepped ahead – including grilling the thyme- and garlic-marinated turkey breast – and kept in the fridge until you're ready to assemble the platter.
Pasta salads – like this Greek-inspired Orzo Salad – are a sure crowd-pleaser and can usually be made a day or two ahead. This orzo salad is great for using leftover turkey breast and I love the addition of sweet peppers for crunch and radishes for a zippy bite. Not a fan of those two veggies? Swap in whatever veggies you love – I bet grilled zucchini would be fabulous in this salad.
Cool Packing Tip: To keep your salads fresh and crisp, pack your add-ons (like cheese or nuts) and dressing into the cooler separately. Toss the salad together and drizzle on the dressing just before serving.
3. All Sorts of Turkey Sandwiches
Sandwiches are one of the easiest meals going for casual gatherings. To keep it simple, grill turkey and keep it in the fridge (or cooler) along with pre-washed lettuce and other sandwich toppings. When you're ready to eat, simply set out the grilled turkey and fixings and allow everyone to create their sandwich to their liking.
Give these scrumptious sandwiches try:
Nothing says summer barbecue like a Pulled Turkey Sandwich filled with fresh coleslaw. Make the pulled turkey a day ahead and reheat just before building sandwiches. To make it a meal: I'd double up on the coleslaw and serve along with fresh cut veggies – like crisp carrots, snap peas, and cucumbers.
With crunchy cucumber, cilantro, do chua (pickled daikon and carrot) and lemongrass-marinated turkey breast, this fresh and flavourful Grilled Lemongrass Turkey Banh Mi gets top marks for deliciousness. Bonus? You can make this up to two days in advance, wrap tightly and keep in the fridge making it perfect for picnics.
Nutrition Tip: Go for whole grain bread, buns and wraps for more fibre, minerals and phytochemicals (natural plant compounds) needed for good health.
Whatever your outdoor eating adventures this summer, be sure to be food safe – check out these tips to keep your food safe.
Happy, Healthy Summer Eating,
Shannon