BIENVENUE SUR LE BLOG DE DINDON CANADIEN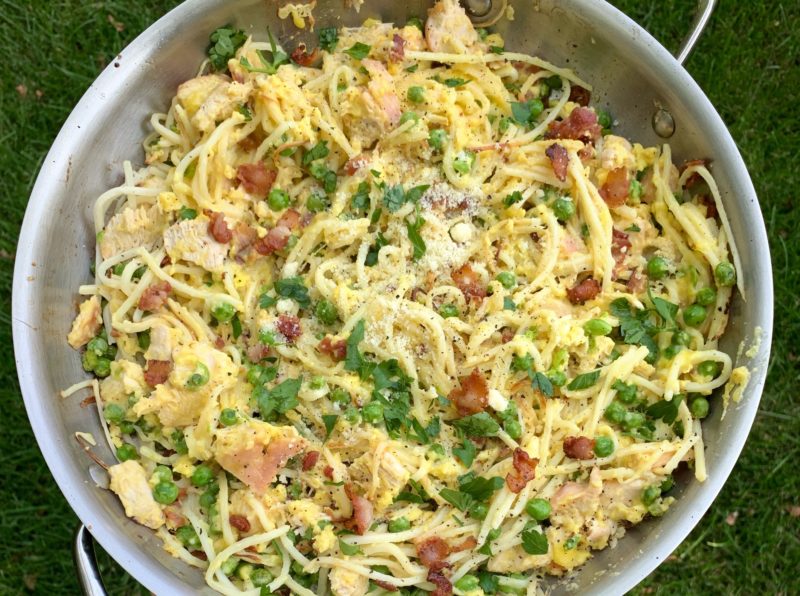 Body by Turkey – Chest Day
It's time to lean in, work out and get that Body by Turkey!
On this episode of Body by Turkey, Leansquad's Phil Mackenzie is serving up that Monday Motivation, with his at-home chest workout, featuring pushups, presses and chest flies.
After the work out, Phil shows us his lean-tastic take on a classic – Turkey Breast Low-Carb Carbonara, with palmini noodles in place of pasta. This recipe is sure to have you Thinking Turkey for your next meal!
Get the full recipe here:
 Turkey Breast Low Carb Carbonara
 PREP TIME: 10 MIN
COOK TIME: 20 MIN
TOTAL TIME: 30 MIN
INGREDIENTS
1 skinless, boneless turkey breast
2 cans palmini pasta (hearts of palm)
10 strips of bacon (diced)
1 pint nut milk (almond milk used for this version)
1 tsp olive oil
4 egg yolks
2 whole eggs
½ cup frozen peas
1 ½ cups Romano cheese (divided)
Salt & pepper to taste
1/2 lemon
2 tablespoons chopped parsley to garnish
INSTRUCTIONS
Rinse and strain 1 can of palmini pasta. After you have rinsed it, place in bowl and soak in a nut milk. This helps eliminate any acidity in the palmini pasta, as well as softening the noodles. Let noodles soak in milk for 20-30 minutes.
While noodles are soaking, heat oven to 400 degrees Fahrenheit.
Prepare turkey breast by adding salt, pepper and a squeeze of lemon.
Once ready, place on a baking try lined tin foil and olive oil.
Place turkey breast on tray and put in oven for 30 minutes or until cooked through (165 degrees internal temperature).
In a large saucepan, cook chopped bacon over medium heat until crisp, about 3 to 5 minutes. Leave bacon and bacon fat in pan.
In a mixing bowl, whisk together egg yolks, eggs, and 1 cup pecorino Romano cheese.
Toss drained palmini pasta with cooked bacon. Pour egg mixture in, along with a tablespoon of water and toss together with pasta, 2 minutes on medium heat.
Serve hot topped with remaining cheese, freshly salt & ground pepper, and parsley to garnish.