BIENVENUE SUR LE BLOG DE DINDON CANADIEN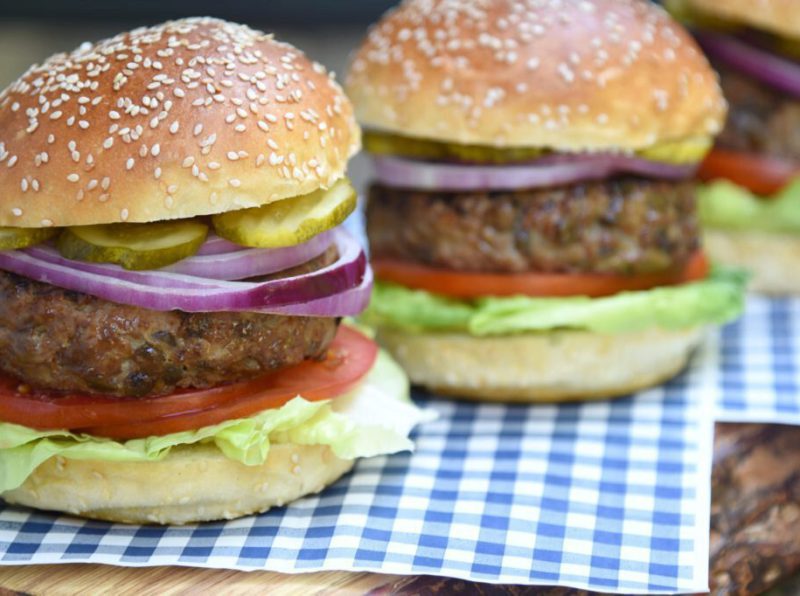 5 Easy Make-Ahead Meal Ideas for Camping, Cabins, and Cottages
If you're heading to the cottage, campground or your favourite cabin in the woods, here are five easy make-ahead meal ideas that save time so you can eat well and still enjoy the great outdoors.
Turkey skewers
I think skewers are perfect for packing for outdoor meals for a few reasons:
They can be a meal on a stick when you pile them with turkey and summer veggies.
They cook quickly so you can spend more time relaxing outside.
They're easy to eat – no forks required!
Try this: These Lime and Tequila Marinated Turkey Skewers are tangy and can be made with turkey breast or thighs – both are lean and packed with nutrients like vitamin B12 (for good brain health!). Serve with a side salad – for camping, I like to keep it simple with a bagged, pre-made slaw salad (healthy and convenient!).
How to pack: Cook the skewers and make the tangy herb sauce before you go. Pack cooked skewers into reusable containers and keep herb sauce separate. Enjoy skewers cold or reheat them quickly over a campfire or barbecue. Sauce and skewers keep in the fridge for up to three days.
Turkey Burgers
I recommend making your own turkey burgers at home with basic ingredients. It's easy and it saves you money – boxed burgers can be expensive!
Try this: The green lentils in these Cheddar Smokey Turkey & Lentil Burgers basically "disappear" when combined into ground turkey and add gut-healthy fibre to your burger.
How to pack: make patties at home and freeze with parchment paper between the layered patties. Pack in the cooler with freezer packs so they stay frozen while you travel. Transfer to the freezer when you get to the cottage or cook the day you arrive. Cook patties from frozen. (Or cook all the patties before you leave and then simply reheat quickly before you eat.)
Breakfast Burritos
Don't forget breakfast! There's nothing like an early morning breakfast cooked over the campfire. Add ready-to-heat burritos and it's even better!
Try this: These Make Ahead Turkey Breakfast Burritos, filled with warm scrambled egg, veggies and sliced smoked turkey breast are simple to make and so tasty! Make a double batch so you can enjoy them for breakfast a couple times on your trip.
How to Pack: Make the burritos ahead of time, wrap tight and freeze. Defrost in the fridge before cooking and then heat them up in a pan. Find tips on how to assemble and freeze burritos in the recipe.
Satisfying Sandwiches
A wholesome sandwich made with protein-packed turkey and fibre-filled veggies provide sustained energy so you can power through any outdoor activity like hiking, swimming, or beach volleyball.
Try this: I'm loving this Grilled Scallopini Sandwich with pickled vegetables! It's super tasty and travels well. Turkey scallopini cooks in about 5 to 10 minutes (depending on thickness) so it makes meal prep quick.
How to pack: Assemble the sandwiches and wrap tightly or place in a reusable container. Be sure to put lettuce between the bread and tomatoes and pickled veggie mayo so the bread doesn't get soggy. Keep in the fridge – or your cold cooler – for up to one day.
Power Bowls
Eating well on your vacation can be easy when you do some meal prep ahead. Power bowls are a tasty way to get nourishing foods onto your plate – or into your bowl.
Try this: Lean turkey breast paired with chickpeas and veggies all drizzled with a lemony vinaigrette make this Mediterranean-Inspired Turkey Nourish Bowl delicious and nutritious!
How to pack: Cook a turkey breast; let it cool and cut into bite-size pieces. Cook your whole grain – barley or brown rice are terrific in power bowls – and let it cool. Assemble the power bowls ahead, packing the vinaigrette separately. Or pack all the ingredients separately and when it's time to eat, everyone can make their own salad or power bowl how they like it.
Remember to keep your turkey and other fresh foods safe in a cooler with plenty of ice or freezer packs. Check out this link from Health Canada for useful summer food safety tips.
Wishing you a safe and happy summer,
Shannon